Updating JustResizeIt!
You need an internet connection to update the product!
Application will automatically check for new update on each startup, unless otherwise instructed.
Update process can be started manually by clicking on the "Update" symbol on the top of the application.

By clicking it, a Update dialog will appear showing the update check process.
If a new version of JustResizeIt! is available for download, Update dialog will inform the user about it.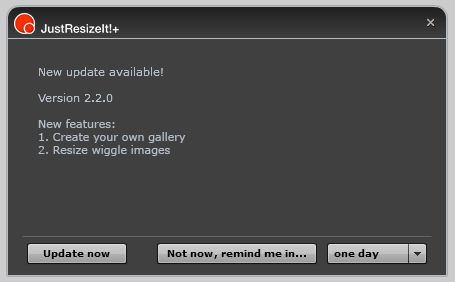 User can choose to download the new update, by clicking the "Update now" button, which opens the download page in web browser.
Otherwise, user can choose to postpone the update process, cy clicking on "Not now, remind me in..." button. By doing that, updater will not run automatically for instructed period of time.