Resizing images using widgets
This is the help for JustResizeIt! (free) and JustResizeIt!+ software.
Features marked with "(+ only)" are not available in the free version.
Resizing images is very simple.
1. Select one or more images and drag & drop them onto a widget.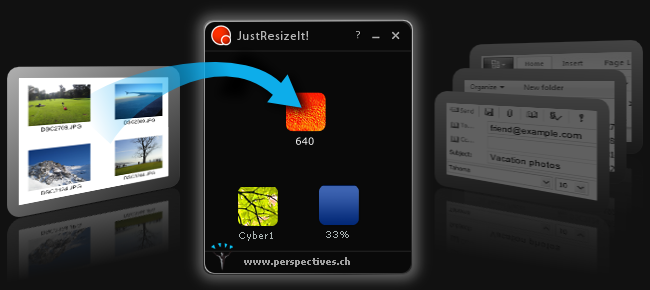 A processing progress bar will appear.
2. Wait until all images are resized.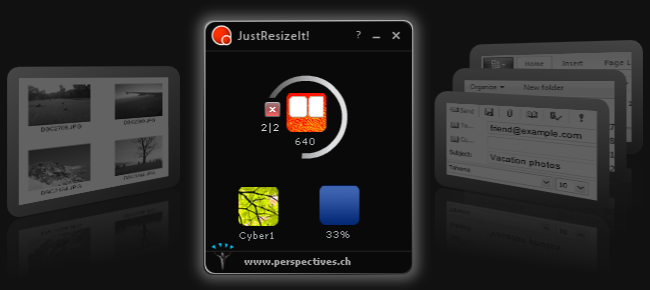 Resized images appears as icons on the widget.
If multiple images are dropped onto a widget they will be resized one by one.

The resize process may be stopped at any time by clicking on the red "X" button. Images that are already resized remain on the widget and are ready for use.

(See Resize settings to set how you want the images to be resized.)

3. Drag the icons from the widget over to an office document, e-mail message or a folder.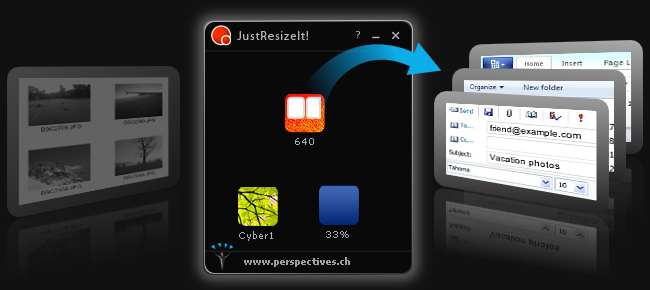 To empty a widget of resized images, just drag the icons on an empty part of the application, or right-click on the widget and choose "Empty" from the context menu.
JustResizeIt! (free) and JustResizeIt!+ use Adobe's Native image encoding feature - as a result resizing images is very fast. EXIF information of JPEG images are preserved (+ only).